Converted Barn near Penne du Tarn in South West France with 10m x 5m Pool
Where is it?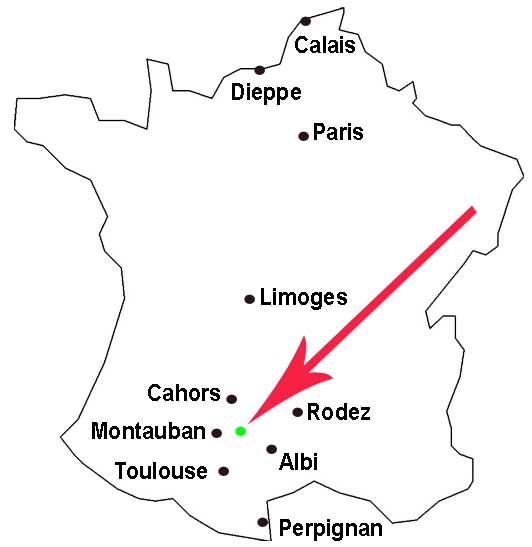 In the tiny village of Roussergues next to the river Aveyron, in the very north of the Tarn close to the borders with the Tarn-et-Garonne and Aveyron regions.
The village of Penne-du-Tarn, with its wonderful teetering chateau (mostly ruined but now open to the public) is about 1 km away, small town of St Antonin Noble Val is about 27 km to the West, Montauban is 35 km to the East and Toulouse (Easyjet and BA) is about an hour's drive East then South. Ryanair also fly Stansted to Carcassonne which is about 2 hour's drive away.
The landscape is dominated by dramatic steep sided river valleys which are part of the Gorges d'Aveyron. The river is about 2 minutes drive away and is a local favourite swimming spot. The house itself offers a wonderful view over the valley and the medieval village of Penne.
Next to the swimming pool is our stone barn dated 1731. Conversion of this into a fully equipped two bedroom cottage was completed in 2010.
The large (7.5 by 5m) living room is on the first floor. It has a double aspect, with view over the pool on one side and out towards Penne and the lovely limestone cliffs on the other. It has a fully equipped galley kitchen including electric cooker, fridge with small freezer and dishwasher. Also dining and sitting area for 6. The corner sofa opens up to make an extra double bed if needed.
A Satellite TV showing English channels and DVD player is provided as well as a Radio/CD/Ipod dock for music. Wireless broadband is available and you may have free use of the telephone on request.
On the ground floor, there are two bedrooms, one with double bed, the second can be configured with double bed or two or three singles depending on your needs. There is also a generous sized bathroom with loo, basin, bath and separate shower cubicle.
Next to the barn, in what was the old vegetable plot, is our 10m by 5m swimming pool. There is also an outside area with table and chairs and barbecue.
During the summer, Kate and Justin live in the house and are on-hand to provide any assistance you may need. We are very discreet and you don't have to see us if you don't want to!
The village of Roussergues has about nine houses and a small church which is no longer used for services but is open at weekends in July and August.
Our neighbours are friendly and helpful. Francis and Laurence live opposite and help us look after the house and keep the grass under control. Annie and André are retired farmers but will still sell you fresh eggs when they have a surplus.
This section was written when we didn't have a swimming pool of our own. We've left it in to show the alternatives for a swim.
The nearest place is by the Penne turning from the main road, where there is a driveable track beside the river. We suggest wearing of old shoes as it is quite stony. Children can paddle in safety by the shore and swimmers can enjoy the deeper water.
Another river swimming place, a bit further afield (15 minute drive). You can get to it by taking the route to St Antonin 'par la corniche'. This is a spectacular drive up through the cliffs, past Brousses village and down to join the D115 again. Just before it does, there is a little bar, park there and scramble down to the river for a deep water swim.
There's a swimming lake complete with diving platform, pedalo hire and picnic place on the road which goes South from Bruniquel near Castlenau de Montmiral.
The biggest and best local swimming lake is at Monclar. This is between the Bruniquel road and Montauban. There's a fun water slide, diving platform, picnic tables in the woods, tennis at the campsite, etc.
You can walk in every direction from the house. The most spectacular takes you to the top of the ridge opposite the house. The view from there is breathtaking. You walk up through Roussergues, down past the house at the left of the old church, turn left on the road at Janoye and look for the footpath sign to the right. There are some interesting caves to be found from little paths up and down from the main path on the way up through the woods. You need a good torch to explore and please take care as you will be at your own risk. One was originally inhabited and was investigated by anthropologists years ago but they abandoned their research too much of the roof had fallen in over the millenia. Another is the protected home of a rare species of bat, notices tell you not to disturb them. There is a third below the path called 'les trois cloches' because of the impressive stalactites.
There is a brilliant walk not far from the main St Antonin road which goes up to a cave which is home to thousands of bats as well as offering fine views.
The nearest official caves (with lighting and guided tours) are the Grottes du Bosc on the other side of St Antonin with impressive rock formations.
There are many other walks which are well documented in guidebooks available at all the local Syndicats d'Inititiative (there is one in every village). The national park of the Foret de Gresigne is close by.
We also advertise on Holiday Homes France
and on these sites (where you will pay more than booking with us direct)
What you get:

All electricity and water charges included

Free wireless broadband and free calls to landlines in Europe on request

Linen is provided excluding towels

Changeover:

Lettings are from Saturday to Saturday.

Arrive any time after 4.30pm and leave the house by 10am.

Rental charges for Barn:

June, early July, September £650 per week

late July, August £750 per week

Cleaning:

The barn is cleaned and linen washed between each let but we do rely to a certain extent on people leaving it as they would like to find it.

Booking fee:

A booking is secured by payment of a deposit equal to one half of the rental. The balance to be paid four weeks before departure.

Cancellations:

In the event of a cancellation, the deposit is forfeit unless we are able to re-let for the period.

In this case the deposit will be returned less costs incurred in obtaining the let.
Breakages:

We don't make any charge for breakages but we do rely on people telling us so we can organise replacement before someone else's holiday is affected.